THE FIRST COLLECTION
(Hungary)
-
Dark and milk chocolate dragées filled with plum, raspberry, cherry and apricot brandy.

The idea behind the Passionate product family's design was to present all the flavors as "personalities" (mixing the ingredients) on the packaging, so the customers could identify with the flavor they prefer. The dragées in the box are humorously showcased through a peephole, as if we were able to see into the stomach of the characters. The aim was to design a catchy look for the box, capturing attention and making people smile.
 
The first pieces of the collection are dark and milk chocolates - flavored with four kinds of fruit brandies. Each of the two flavors are displayed as a young man and a woman with a joyful expression on their face, wearing fictional traditional costumes.
A Passionate termékcsalád grafikájával kapcsolatban az volt az elképzelés, hogy minden íznek legyen egy karaktere, aki "vegyíti" az összetevőket, így a vásárlók azonosulni tudnak egy-egy ízzel. A termékbemutató-ablak humorosan láttatja a dobozban található édességet, olyan hatást keltve, mintha a figurák hasába engedne betekintést. Mindenképp valami frappáns csomagolási megoldás volt a cél, ami felkelti a figyelmet és megmosolyogtat.
A kollekció első ízei a négy féle gyümölcsből készült pálinkával töltött ét- és tejcsokoládék, 2-2 íz egy fiktív népviseletbe öltözött legényként és egy leányként jelenik meg, arcukon vidám kifejezéssel.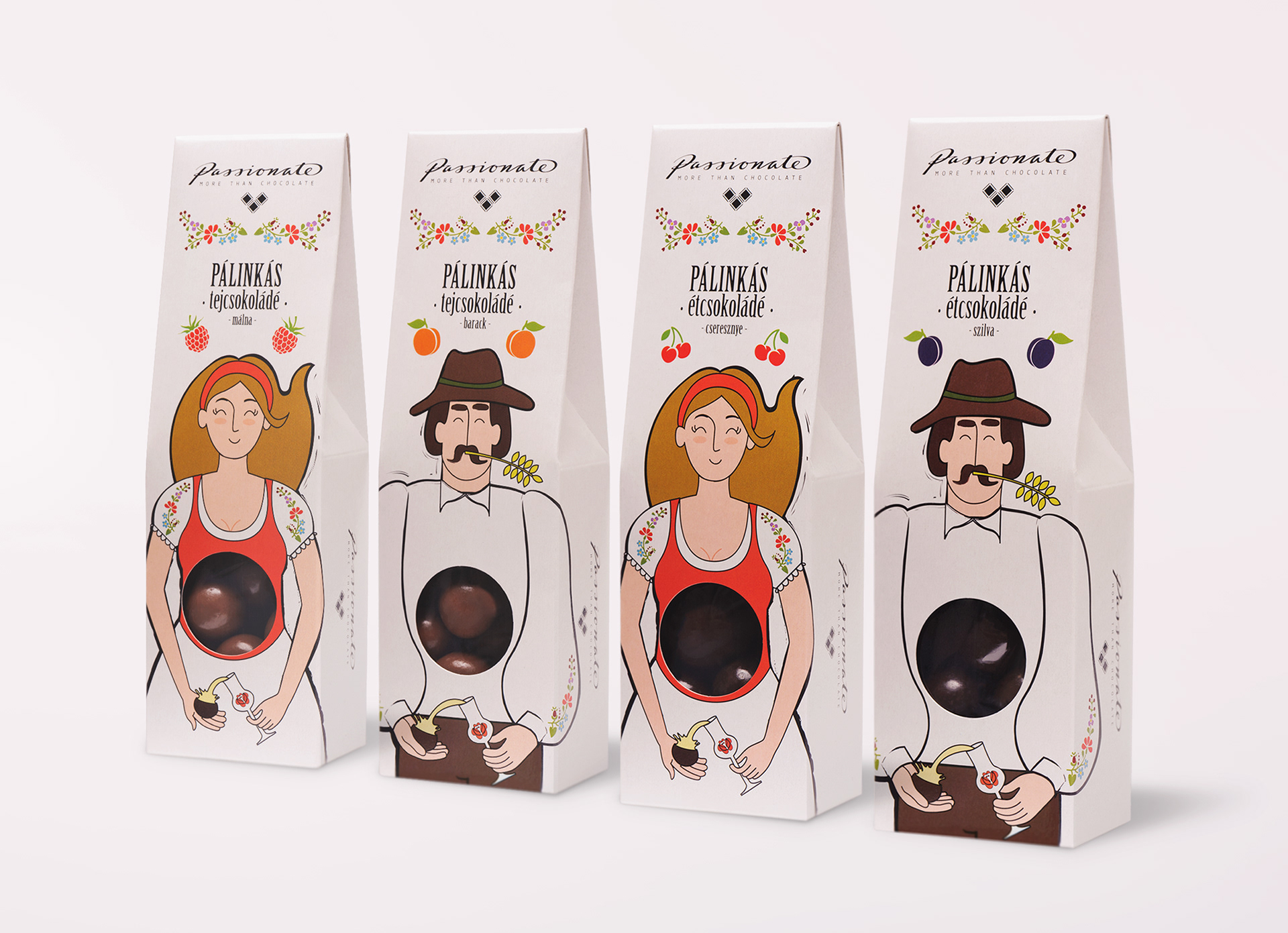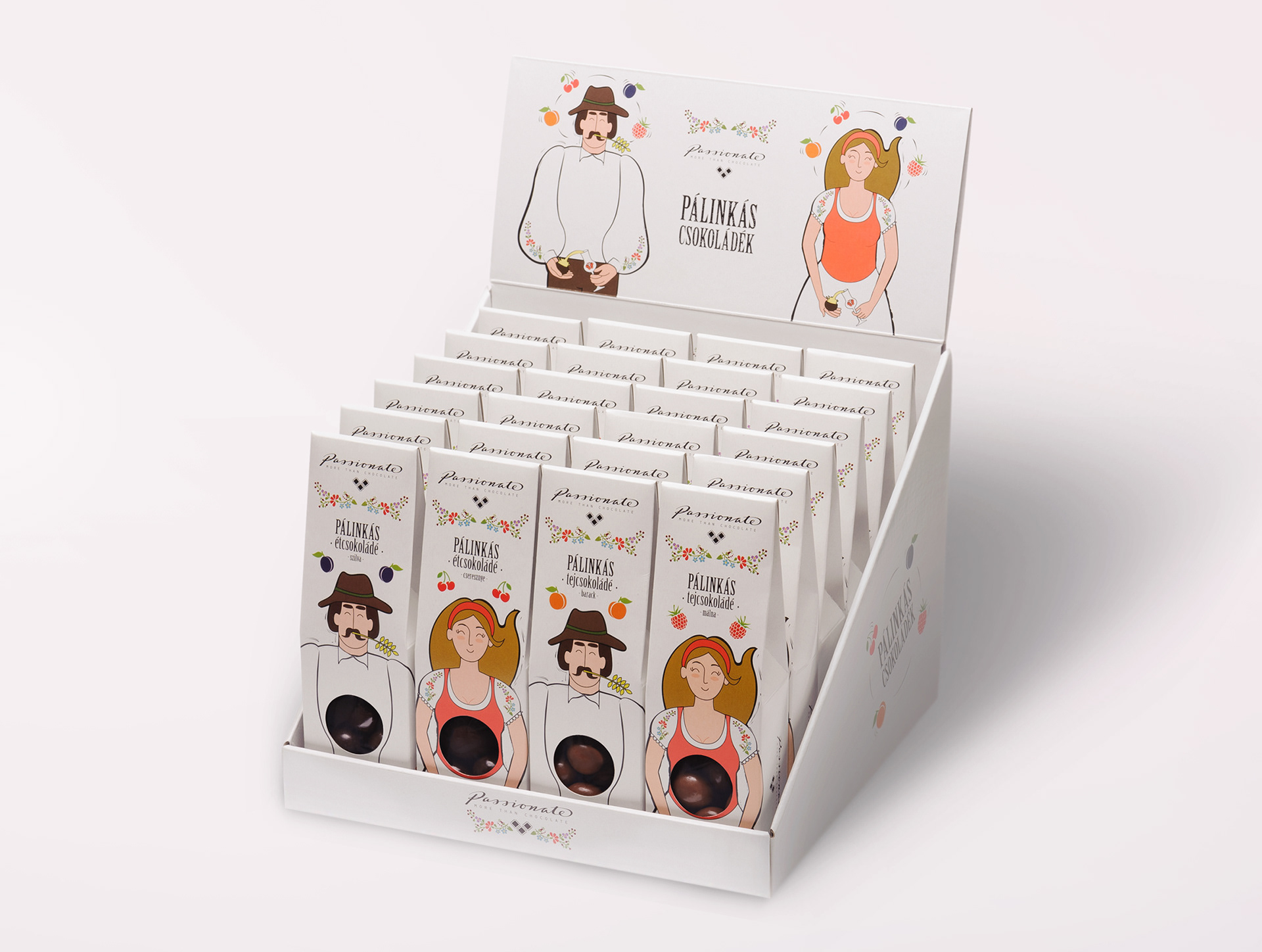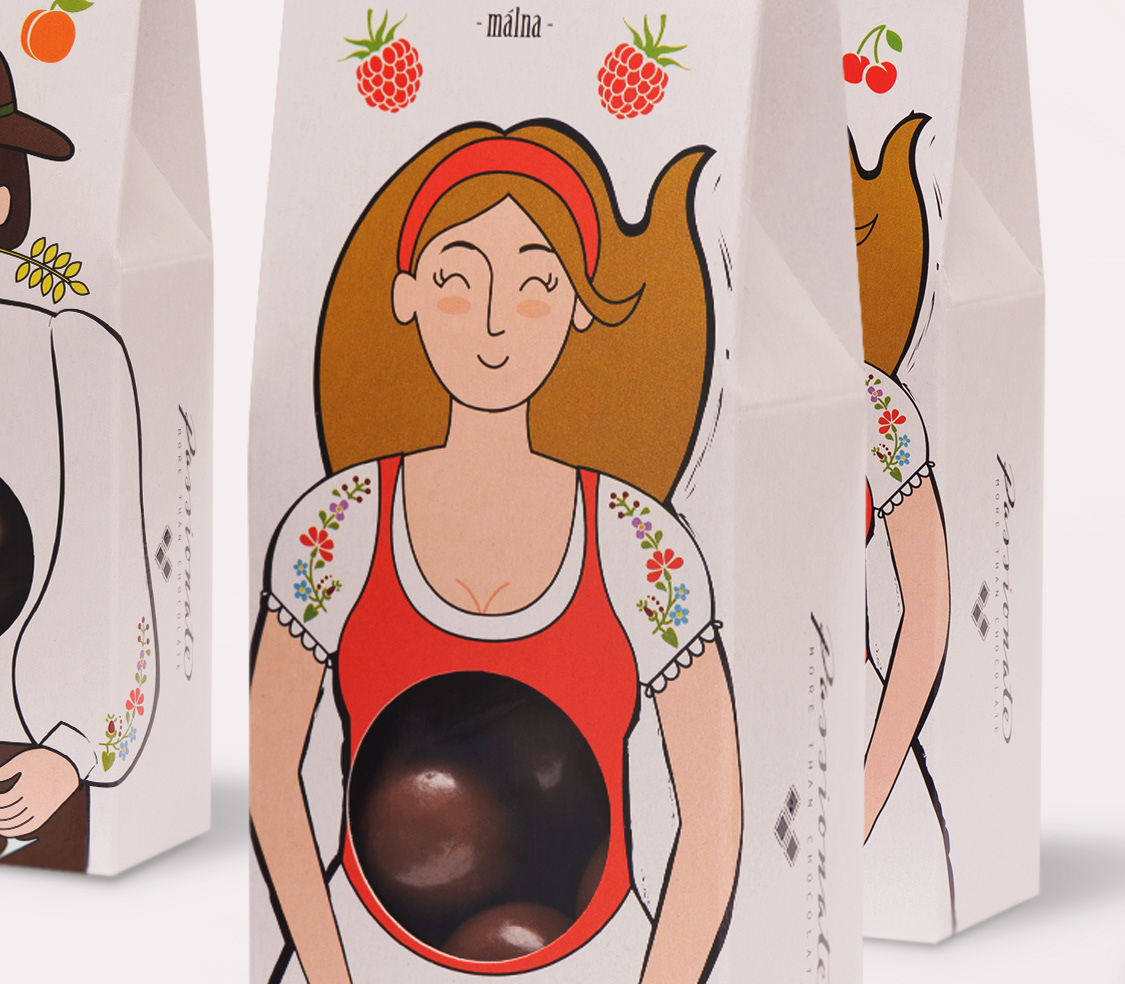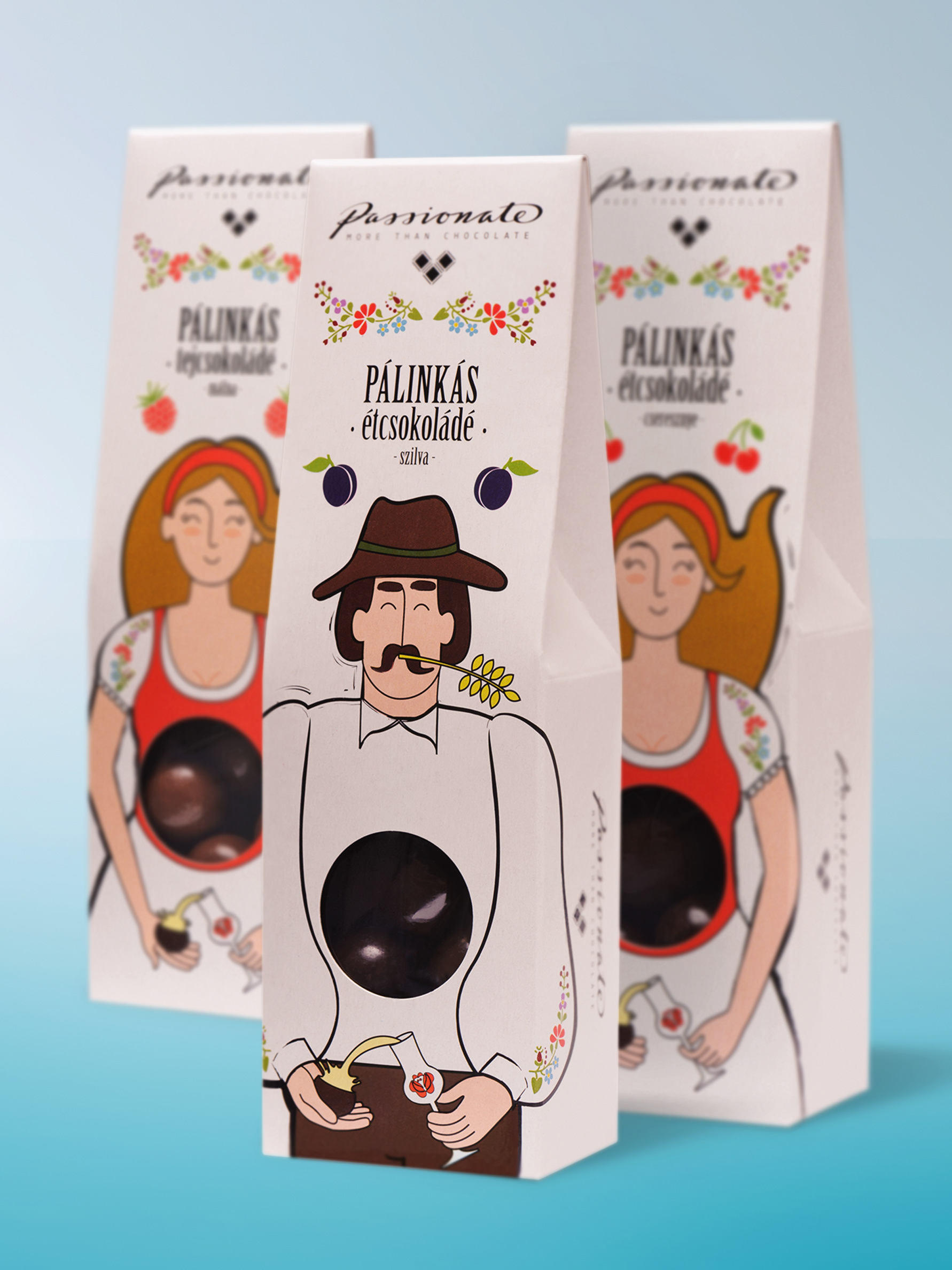 THE SECOND COLLECTION
- Dark and milk chocolate dragees filled with quince and Williams-pear brandy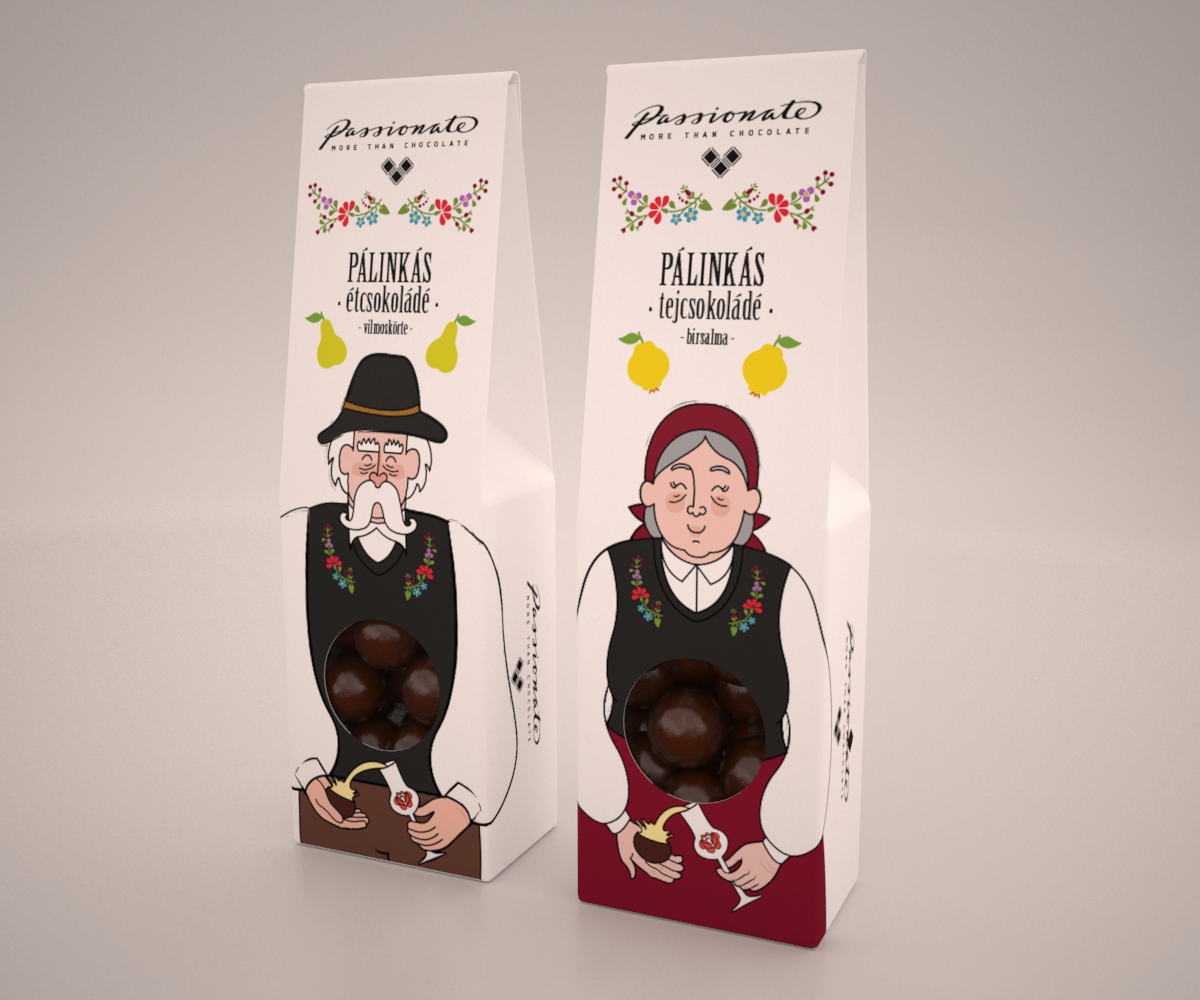 THE THIRD COLLECTION
- Dark and milk chocolate dragees with

 liquid coffee and rum-coconut liqueur flavoured filling
WINTER EDITION
- Dark chocolate coated dried cranberry dragees and milk chocolate dragees with liquid walnut-liqueur flavoured filling